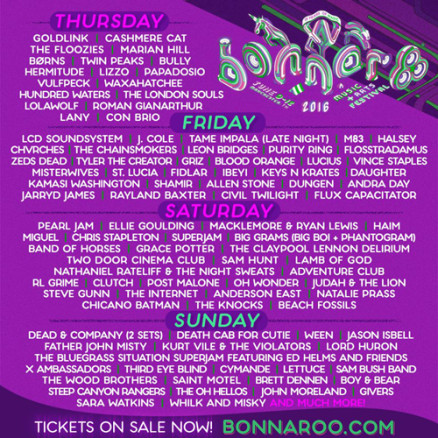 Bonnaroo Music and Arts Festival 2016
Beginning:

09 - Jun - 2016

Time:

07:00

Location:

Great Stage Park, Manchester, US

Cost:

GA Price Level 2 - $349.50 plus applicable fees

Website:

www.bonnaroo.com
15 YEARS OF MAGIC!
The 2016 Bonnaroo Music and Arts Festival marks the event's 15th anniversary and as such, is being celebrated with more than 150 musicians, bands, and comedians performing across its 12 unique stages. The lineup features a strikingly deep roster of talent that includes Pearl Jam, Dead & Company (2 sets), LCD Soundsystem, J. Cole, Ellie Goulding, Macklemore & Ryan Lewis, Tame Impala (late night), Death Cab For Cutie, M83, Haim, Miguel, Chris Stapleton, Big Grams (Big Boi + Phantogram), Tyler the Creator, Lamb of God, Blood Orange, Kamasi Washington, Waxahatchee, Vince Staples and many more.
Additional announcements will be made in the coming weeks.
For complete details and regular news updates, please visit www.bonnaroo.com.
A short film about a heart-searching music lover's journey to Bonnaroo: