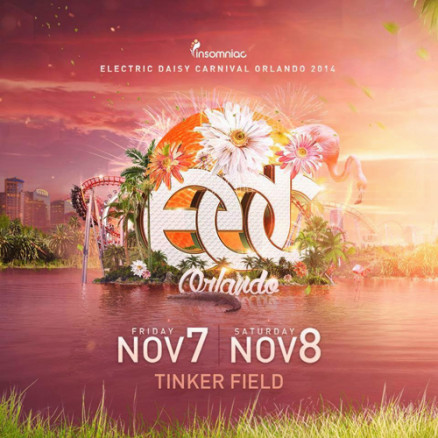 Electric Daisy Carnival Orlando 2014
Beginning:

07 - Nov - 2014

Time:

01:00

Location:

Tinker Field Orlando, US

Cost:

2-Day Pass $69.94

Website:

www.electricdaisycarnival.com/Orlando
Join us Under the Electric Sky with the return of Electric Daisy Carnival Orlando, coming to Florida at the historic Tinker Field Friday, November 7 and Saturday, November 8 for a weekend of super blooming beats, funkdafied freaks and the experience of a lifetime! Tickets go on sale Wednesday, July 16 at noon ET at electricdaisycarnival.com/Orlando.
"Each EDC has its own distinct vibe and scale, making it a unique experience for the fans. No two festivals are exactly alike," says Insomniac CEO and Founder Pasquale Rotella. "With its close proximity to some of the nation's most popular theme parks, EDC Orlando is one of my favorites."
Now in its fourth incarnation, EDC Orlando will be a magical two-day adventure bringing together dozens of eclectic artists performing across multiple stages, vibrant art installations, costumed roaming characters, dancers and performers, as well as the festival's signature full-scale carnival rides for guests to enjoy amid a transformed venue with unique and immersive décor.
Tinker Field is a historic Florida venue that has been home to EDC Orlando since its inception in 2011. The venue is currently undergoing renovations, and this year's festival will be the first event to take place at the new and improved site.