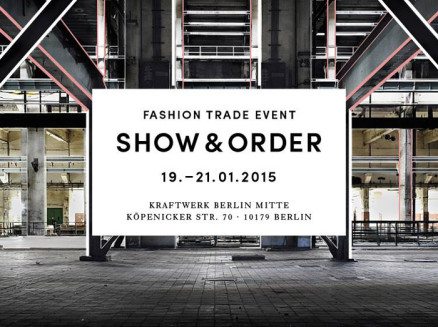 Fashion Trade Event Show&Order No.7
Beginning:

19 - Jan - 2015

Time:

10:00

Location:

Kraftwerk Berlin, Germany

Cost:

free

Website:

www.showandorder.de
Cosy, chic and cool – The seventh Show&Order will open its doors from the 19th – 21st January in the breathtaking location of the Kraftwerk in Berlin-Mitte. By focusing on a trendy selection of exclusive labels, newcomers and talents the exhibition creates a highly selective individuality. "We provide a platform for inspiration and upcoming brands. We stand for what the future of high fashion will look like and present the most interesting styles and the best must-haves," said Verena Malta, CEO of the Show&Order.
"Unique talents and brands can be discovered, it´s the perfect place to be for fashion hunters and gatherers – we completely take the route of discovery", added Ingo Noack, the Marketing and Business Development Manager of the Show&Order.
The trend wrought under the Berlin fashion exhibitions curates also this season the famous and successful "Show&Buy"-Area with international fashion scouts. A key issue for the current and future market: A strategically and centrally positioned area for high quality flash collections that respond quickly, flexibly and dynamically to the needs of the market. "We will present collections which can generate retailer´s revenues not only in the long term but also in the short term. The brands offer in terms of current seasonal trends and short processing the ideal requirement to complement the classic pre-order portfolio. They also form a counterpoint to the offer of vertical retailers. A real added value for the retailer and all of that adjusted to the current market developments", describes Verena Malta. The "Show&Buy"-Area will be even bigger this time.