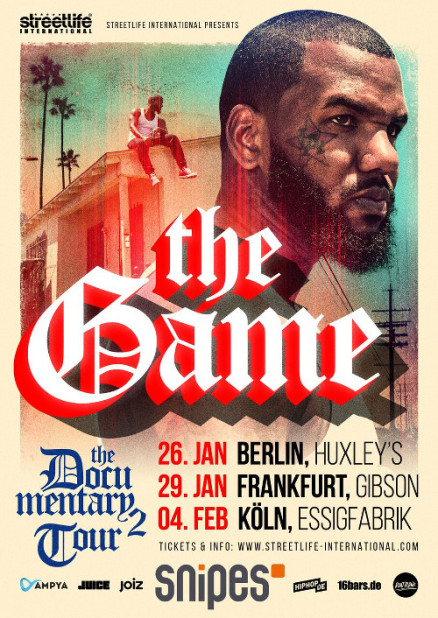 The Game Tour 2016 "The Documentary 2"
Beginning:

04 - Feb - 2016

Time:

08:00

Location:

Essigfabrik Cologne, Germany

Cost:

ab 37,85 € zzgl. Gebühr

Website:

www.streetlife-international.com
The Game

kommt für sein Mega Album "The Documentary 2" für 3 Konzerte nach Deutschland.
Es folgten erfolgreiche Singles wie "How we do" oder "Hate it or love it" die beide 50 Cent featuren und hoch in den Charts einstiegen.
Auf dem Nachfolgewerk seines Debütalbums "The Documentary 2", welches über sein eigenes Label CA$H MACHINE RECORDS erschien, wird er von nahezu allen relevanten Hip Hop-Größen unterstützt, u.a. DRAKE, KANYE WEST, KENDRICK LAMAR, DR DRE, SNOOP DOGG, BUSTA RHYMES uvm.
Um es mit Games Worten zu sagen:  "the west coast is back in the building" und deswegen geht es für 3 exklusive Termine im Januar auf Deutschlandtour.
Tourdates
26. Januar 2016 @ Berlin, Huxleys
29. Januar 2016 @ Frankfurt, Gibson

04. Februar 2016 @ Köln, Essigfabrik