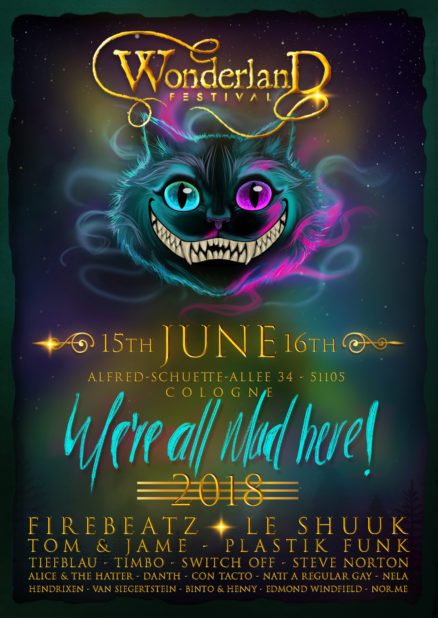 Wonderland Festival 2018 Cologne
Beginning:

15 - Jun - 2018

Time:

16:00

Location:

Köln

Cost:

Two Day Pass - 60 EUR

Website:

http://wonderland-festival.com
2018 – We are all mad here!
Alice fell down the Rabbit Hole and finds herself on the new Wonderland Festival Site right in the heart of Cologne. The mysterious Cheshire Cat tells her the way to the Mad Hatter, who introduces her to the wild rhythms of techno. But she won't stay long, she is meant for greatness, she has to find her answer to her FUTURE! So she simply follows her heart to the Main Stage and ….
You want to know the end of the story, then follow her and the Mad Hatter to Wonderland 2018!
LINE UP:
Firebeatz – Tom & Jame – Plastik Funk – Tiefblau – Timbo – Le Shuuk – Switch Off – Fabian Farell uvm.