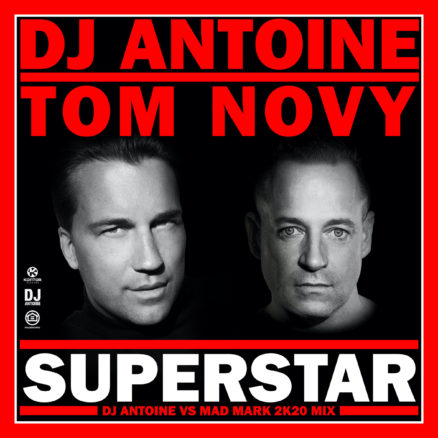 This Single is now available You can purchase the Single HERE
DJ ANTOINE & TOM NOVY – SUPERSTAR
Release date:

2020-01-17

Label:

Kontor Records
Was passiert wenn sich zwei House Giganten treffen und gemeinsame Sache machen? Es entsteht ein Hit der Superlative, namens SUPERSTAR!!! DJ Antoine ist endlich wieder zurück und kooperiert mit keinem anderen als House Legende Tom Novy.
Beide haben unzählige Hits zu verzeichnen!!! Mit Novys erster Erfolgs-Single "Superstar" haben sich nun beide DJs zusammen ins Studio geschlossen und ein vollkommen frisches Gewand gezaubert, was das Jahr 2020 mit Pauken und Trompeten einläutet.
Zudem ist DJ Antoine dieses Jahr Jury Mitglied des Schweizer Pendants zu The Voice of Germany. Im Rahmen der Sendung wird die neue Single "Superstar" ebenfalls eingebunden.
"DJ Antoine & Tom Novy – Superstar" erscheint am 17.01. überall als Download & Stream.
Buylink:
https://ktr.lnk.to/DJAntoineTN-Superstar
YouTube Music:
https://music.youtube.com/playlist?list=OLAK5uy_lipqLFIlIFjk3ZidwEXLwPnl_vXSjl-DI
DJ ANTOINE & TOM NOVY
SUPERSTAR
Label: Kontor Records
VÖ-Datum: 17.01.2020