Kontor – Top Of The Clubs Vol. 65
Die ''Kontor Top Of The Clubs'' ist Deutschlands Nr. 1 Dance Compilation-Reihe. Sie erscheint in der nunmehr 65. Ausgabe und ist DER Trendsetter in Sachen Dance & Club Music. Und kurz vor Weihnachten gibt es mit der limitierten Edition der Vol. 65 eine ganz besondere Überraschung für alle Kontor Fans: eine exklusive Kontor USB PowerBank, also einen externen Akku mit 2.200mAh Kapazität zum Aufladen des Handy & anderer USB-Geräte. Also ein nützliches Gerät, das jeder gebrauchen kann!
Selbstverständlich sind auch auf der Volume 65 wieder die 60 aktuellsten und angesagtesten Club-Tracks vertreten, die bis dato zum Teil noch unveröffentlicht, und damit erstmalig und exklusiv auf einer Compilation zu hören sind. Für die Zusammenstellung und das Mixing des fetten 3CD-Set zeichnen sich neben Resident Markus Gardeweg die Top-DJs Rene Rodrigezz und Jerome mit ihrem musikalischen Gespür verantwortlich. Das Ergebnis ist vier Stunden "upfront" Clubsound im exklusiven DJ-Mix, den es so auf keiner anderen Compilation zu hören gibt.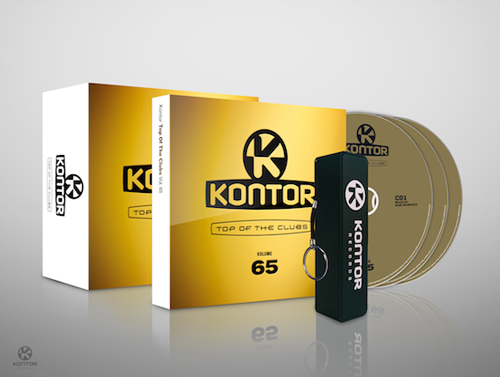 Tracklist:
CD1: Mixed by Rene Rodrigezz
01. Rene Rodrigezz – Be Young*
02. David Guetta feat. Sam Martin – Lovers On The Sun
03. Calvin Harris feat. John Newman – Blame
04. Martin Tungevaag – Vidorra
05. DJ Antoine vs Mad Mark feat. Jason Walker – Wild Side*
06. AronChupa – I'm An Albatraoz
07. Olly Hence feat. JStanley & TIX – The Tramp*
08. twoloud – The Biz
09. Gho$t – Ready Or Not Here I Come*
10. Alpha Dream feat. Ne-Yo – Can't Sleep (Bodybangers Mix)*
11. Komes & Bombs Away – Apple Juice & Vodka (Djuro Mix)
12. Bliss & Honorebel feat. Victoria Kern & Sean Paul – Give It To Me (Bodybangers Mix)*
13. Sean Curtis – Inca
14. Dannic & Shermanology – Wait For You*
15. Yves V & Regi feat. Mitch Crown – Wait Till Tomorrow
16. Jochen Miller feat. Hellen – Let Love Go*
17. Matrix feat. Francisco – Party Every Night (BLACTRO Remix Edit)
18. Mike Vallas – Hades
19. Isle Blanc – Glorious Days
20. Ostblockschlampen vs Luca Pink – Show Your Hands Up*
CD2: Mixed by Markus Gardeweg
01. Latroit & Bishøp – Loving Every Minute*
02. The Avener – Fade Out Lines
03. Kiesza – Giant In My Heart
04. Duke Dumont – Won't Look Back
05. Sandy Rivera feat. April – BANG! (Kings Of Tomorrow ReVox Mix)*
06. Dr. Kucho! & Gregor Salto – Can't Stop Playing (Oliver Heldens & Gregor Salto Remix)
07. Ten Ven & Ripley x Zebra Katz – 1 Bad Bitch
08. Cleavage – Prove
09. Dasco feat. Justina Maria – What I Need (Right Here, Right Now)
10. Ninetoes – Finder (KLARDUST Remix)
11. The Magician feat. Years and Years – Sunlight
12. Waze & Odyssey & R. Kelly – Bump & Grind 2014
13. The Voyagers feat. Haris – A Lot Like Love (Oliver Heldens Edit)
14. Watermät – Bullit
15. ZsuZsa – Never Look Back
16. Benson feat. Lex Famous – Hot Mess (Dom Dolla Remix)
17. Simion feat. Roland Clark – Lost
18. KLARDUST – The Key
19. Mason – Exceeder (UMEK & Mike Vale Remix)
20. Eddie Amador – House Music (Uto Karem Remix)
CD3: Mixed by Jerome
01. Tourist feat. Will Heard – I Can't Keep Up
02. BUNT. – Harmonica*
03. Avicii – The Days
04. Tove Lo – Habits (Stay High) (Oliver Nelson Remix)
05. ZHU – Faded
06. Ozark Henry feat. Elisa – We Are Incurable Romantics (Dirty Vegas Remix)
07. Jerome & Lotus feat. Amanda – Give Me Wings*
08. Santa Maradona F.C. feat. Lucy Spraggan – Give Me Sunshine (Niklas Ibach Remix)
09. KRONO feat. Linying – Run (ManiezzL Remix)
10. Chocolate Puma feat. Kriss Kriss – Step Back
11. Paris Lover feat. A*M*E – Feel Me (KLARDUST Remix)
12. Jasper Forks – River Flows In You (Jerome Remix)
13. Lotus – Good People (Zwette Remix)*
14. Cosmic Gate & Kristina Antuna – Alone (Maor Levi Remix)
15. Van Wijk – Driver
16. Hardwell feat. Chris Jones – Young Again
17. Galantis – Runaway (U & I)
18. MYNC & Mario Fischetti feat. Deborah Cox – Everywhere*
19. Dave Silcox – Shut It Down*
20. Bankmen – The World Is Not Enough*