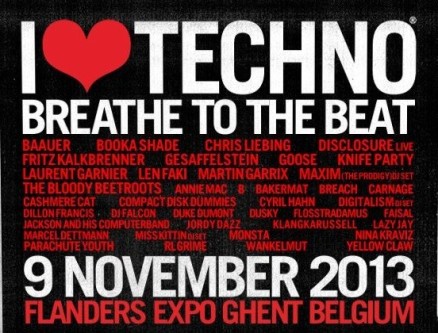 I Love Techno 2013
Beginning:

09 - Nov - 2013

Time:

Location:

Flanders Expo Gent, Belgium

Cost:

REGULAR 56 euro (excl. service and mobility fee)

Website:

http://www.ilovetechno.be/
If you thought the musical landscape would be a sad affair after the summer you couldn't be more wrong. On 9 November I LOVE TECHNO will treat you to the very best beats.
Breathe To The Beat! The first names for the festival are now in:
Tickets for I LOVE TECHNO go on sale on Monday 19 August at 9 am. And the first 100 to order tickets through www.ilovetechno.be will receive an exclusive VIP upgrade!
The XL room is to be used again this year to guarantee plenty of space for everyone. More news and more names to come soon!
Ticket prices:
Regular: 56€ (excl. service and mobility fee)
VIP: 96€ (excl. service and mobility fee)