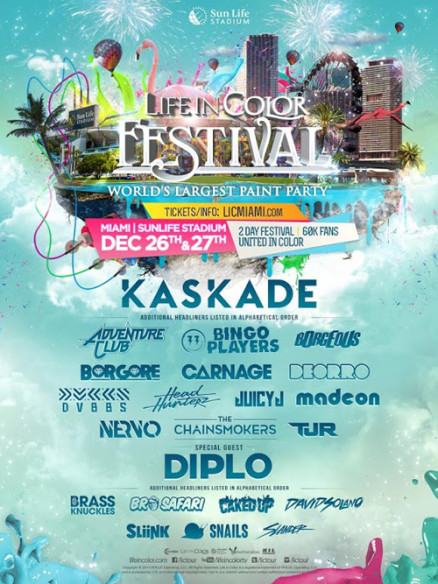 Life in Color Miami 2014
Beginning:

26 - Dez - 2014

Time:

04:00

Location:

Sun Life Stadium Miami, US

Cost:

2-Day Pass $149.99

Website:

www.licmiami.com
Life in Color Finishes Painting Lineup Masterpiece for Expanded LiC Miami Festival
Watch as Adventure Club, Bingo Players, Borgore, Carnage, David Solano, Deorro, Diplo, DVBBS, Juicy J, Madeon, Nervo, and The Chainsmokers are Painted and Revealed by Artist Garibaldi as the Final Headliners
Full Lineup Announcement Brings Additions of:
Borgeous, Brass Knuckles, Bro Safari, Caked up, Headhunterz, Slander, Sliink, Snails, and TJR.
Life in Color revealed Kaskade as the first headliner for its Life in Color Miami Festival on December 26-27. Throughout the past couple weeks Adventure Club, Bingo Players, Borgore, Carnage, David Solano, Deorro, Diplo, DVBBS, Juicy J, Madeon, Nervo, and The Chainsmokers were painted as the next artists to add their vibrant sonic hues to Life in Color's Miami canvas.
The full lineup comes in today with the additions of Borgeous, Brass Knuckles, Bro Safari, Caked up, Headhunterz, Slander, Sliink, Snails, and TJR.
After the festival Life In Color will host an online silent auction where fans will have the chance to win the portraits, with Life In Color donating the proceeds to the Arts For Learning charity. Arts For Learning is the largest organization in South Florida solely dedicated to connecting professional visual and performing artists to children and educators. Every day, Arts For Learning works to inspire young people and expand their learning through the arts.
Life In Color, "The World's Largest Paint Party", revealed its plans to expand its Miami festival to two days, Dec 26 and Dec 27, to millions nationwide via a national broadcast on Fox Sports and ESPN Deportes, during the halftime show of the Guinness International Champions Cup between Manchester United and Liverpool. It will be Life In Color's first multi-day event and will take place at Miami's Sun Life Stadium.
Tickets are available here:
Last year Life In Color's debut Miami Festival drew over 25,000 attendees, featuring acts that included Calvin Harris and Steve Aoki. This year the event is expected to draw 60,000 people over two nights, and will use a record-breaking amount of paint.