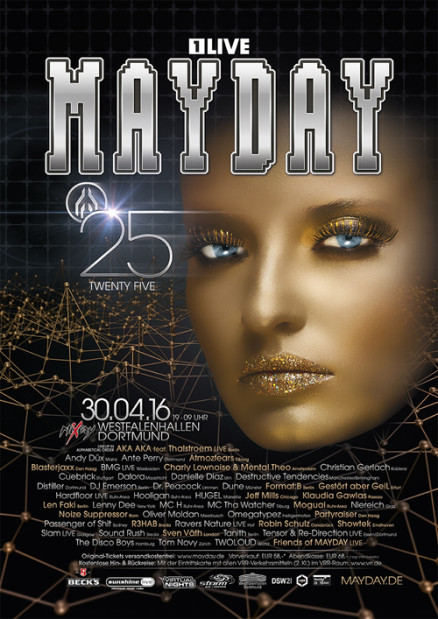 MAYDAY "Twenty Five"
Beginning:

30 - Apr - 2016

Time:

07:00

Location:

Westfalenhallen Dortmund, Germany

Cost:

Vorverkauf 58,- € / Abendkasse 68,- €

Website:

www.mayday.de
LineUp in alphabetischer Reihenfolge:
AKA AKA feat. Thalstroem -live- (Berlin), Andy Düx (Mainz), Ante Perry (Dortmund), Atmozfears (Tilburg), Blasterjaxx (Den Haag), BMG -live- (Wiesbaden), Charly Lownoise & Mental Theo (Amsterdam), Christian Gerlach (Koblenz), Cuebrick (Stuttgart), Dalora (Maastricht), Danielle Diaz (Ulm), Destructive Tendencies (Manchester/Birmingham), Distiller (Dortmund), DJ Emerson (Berlin), Dr. Peacock (Limmen), Dune (Münster), Format:B (Berlin), Gestört aber GeiL (Erfurt), Hardfloor -live- (Ruhr-Area), Hooligan (Ruhr-Area), HUGEL (Marseille), Jeff Mills (Chicago), Klaudia Gawlas (Passau), Len Faki (Berlin), Lenny Dee (New York), MC H (Ruhr-Area), MC Tha Watcher (Tilburg), Moguai (Ruhr-Area), Niereich (Graz), Noize Suppressor (Rom), Oliver Moldan (Meerbusch), Omegatypez (Heiligenhafen), Partyraiser (Den Haag), Passenger of Shit (Sydney), R3HAB (Breda), Ravers Nature -live- (Hof), Robin Schulz (Osnabrück), Showtek (Eindhoven), Slam -live- (Glasgow), Sound Rush (Breda), Sven Väth (London), Tanith (Berlin), Tensor & Re-Direction -live- (Essen/Dortmund), The Disco Boys (Hamburg), Tom Novy (Zürich), TWOLOUD (World), Friends of MAYDAY -live-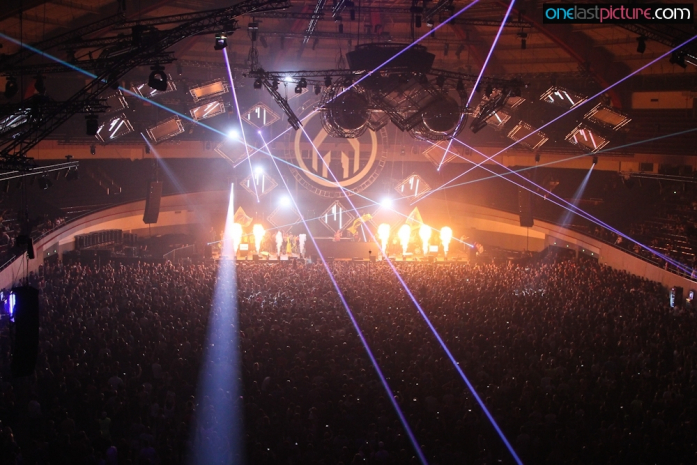 Am 30. April wird in den Dortmunder Westfalenhallen das 25. jährige Jubiläum von MAYDAY gefeiert.
Zum Jubiläums-LineUp gehören über 50 inter-/nationale Top-Acts, wie AKA AKA feat. Thalstroem, Atmozfears, Blasterjaxx, Charly Lownoise & Mental Theo, Format:B, Gestört aber GeiL, Jeff Mills, Klaudia Gawlas, Len Faki, Moguai, Noize Suppressor, Partyraiser, R3HAB, Robin Schulz, Showtek, Sven Väth und viele mehr. Gefeiert wird 14 Stunden lang auf fünf Floors.