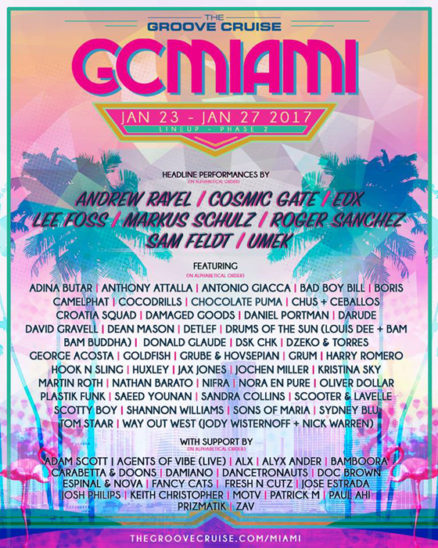 The Groove Cruise 2017
Beginning:

23 - Jan - 2017

Time:

11:00

Location:

Port Miami, US

Cost:

$799

Website:

www.thegroovecruise.com
What started in 2004, as a group of 125 thrill-seeking house heads sailing on a cruise together, has now erupted into the Worlds Largest Floating Dance Music Festival.
The Groove Cruise Miami is a 96 hour, non-stop experience, comprised of 4 straight days of beach & pool parties, as well as themed extravangazas and onboard events that rival the best dance music festivals in the world.
We're overly excited to announce a brand new ship and cruise line for 2017, the Carnival Victory, sailing to a world renown and simply stunning new destination, Grand Turk!
So fasten your life preserver, an entirely new world awaits.