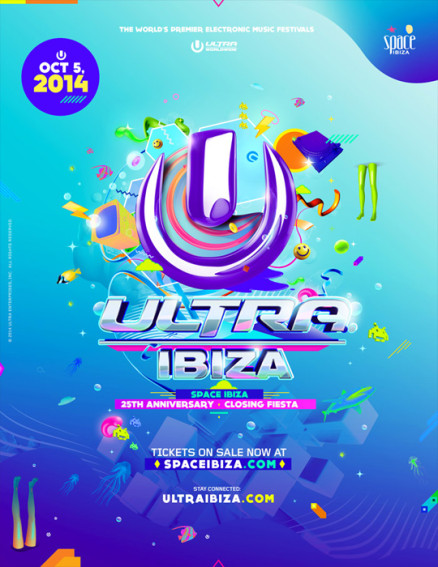 Ultra Ibiza 2014
Beginning:

25 - Okt - 2014

Time:

04:30

Location:

Space Ibiza, ES

Cost:

65,00 €

Website:

www.ultraibiza.com
Space Ibiza Closing Fiesta is taking shape, with over 30 artists confirmed already, marking the end of another summer season in Ibiza
For next 5th of October 2014, Space Ibiza have been developing a lineup where musical quality is a constant, trying to give a sweet taste to the classic and bitter goodbye.
Six areas will be open, including the favorite one by the clubbers, the outdoor zone located in the rear of the club, Ultra Ibiza Arena. This charismatic outdoor area that only opens during the Openings and Closings; and exceptionally during the last anniversary, will be the first to open at 4:30 in the afternoon. The Funktion One sound system, a spectacular stage production and the lineup previously mentioned will be, with more confirmations to be announced next 3rd October, the finishing touch of one of the best seasons in the best club of the world, Space Ibiza.
LINE UP:
AGORIA, BLACKHALL & BOOKLESS, CAMILO FRANCO, CARL COX, CHUS+CEBALLOS, COOLMACHINES, DAVID MORENO, DEEP DISH, DISCLOSURE (DJ SET), DJ TENNIS, DR. M2M, ELIO RISO, IAN BLEVINS, IGOR MARIJUAN, JASON BYE, JAVI BORA, JOHN TALABOT, JONATHAN TENA, JONATHAN ULYSSES, JOSÉ DE DIVINA, JOSH WINK, JUAN GOMEZ, JULIAN JEWEIL (LIVE), MARCO LOCO, MR.DORIS, NIC FANCIULLI, PAUL REYNOLDS, PIONAL, RAMON CASTELLS, RIOTGEAR, VISIONQUEST (RYAN CROSSON, LEE CURTISS & SHAUN REEVES), YAN M!KALE.