Nicky Romero Releases Protocol Flight #03 – The Summer Recap Video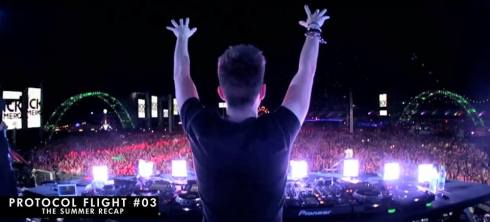 Following up on the the success of his recent single, "SOTU" with Sunnery James & Ryan Marciano and Fast Eddie, Nicky once again opens up to share a rare behind-the-scenes perspective of his life on tour. Running through footage from Ultra Music Festival Europe, Ushuaia Ibiza, Electric Daisy Carnival Las Vegas, Sensation Amsterdam, and everywhere in between, fans are able witness his massive performances while getting to know his personality and gaining insight into the happenings both on-stage and off. Watch Protocol Flight #03 – The Summer Recap Video here:
This past Summer has been one of Nicky Romero's most prosperous seasons to date as he not only enjoyed a stacked tour schedule, but he also released well-received singles like "Legacy" with Krewella and "Still The Same Man" with John Christian & Nilson. Now with his Protocol Recordings label night at ADE in his sights, he maintains a strong connection with his fans, just as he always has. In Protocol Flight #03, he captivates viewers with all that happens on tour – from sound checking to chatting with David Guetta and Afrojack, playing on main stages, dealing with technical difficulties, traveling, and more. Nicky Romero continues to build a strong reputation around his music, performances, and Protocol Recordings to distinguish himself from the rest.
Chronologic order of locations/festivals in the recap:
Amnesia Ibiza
UMF Europe – Croatia
FMIF Ushuaia Ibiza
Extrema Outdoor – Holland
Electric Love Festival – Austria
The Light – Vegas
Daylight – Vegas
EDC – Vegas
Sziget Festival – Hungary
Altromondo – Italy
Nothing But the Beat – Germany
Street Parade – Austria
Summer Festival – Belgium
Sensation – Prague
Sensation – Amsterdam
Tomorrowland – Belgium