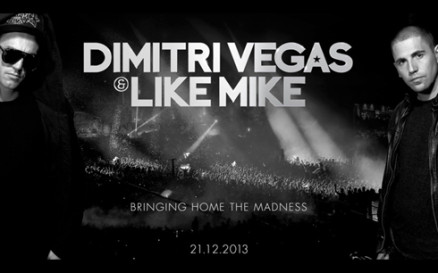 Tomorrowland presents DIMITRI VEGAS & LIKE MIKE
Beginning:

20 - Dez - 2013

Time:

Location:

Sportpaleis Merksem, Belgium

Cost:

Tickets are 44 euros - 39 euros and 34 euros, service fee included

Website:

www.bringinghomethemadness.com
Just back from an insane summer bringing the madness to festivals across the globe, the Belgian powerhouse that is Dimitri Vegas & Like Mike announced their first ever solo arena show – Bringing Home The Madness Concert Show at the Sportpaleis on December 21st 2013.
With demand for tickets reaching fever pitch, selling out the 20,000 capacity arena in just one day, Dimitri & Mike have announced they will be adding a second date for all those that missed out the first time round. The pair will now also be taking to the stage of Belgian's biggest stadium on Friday 20th December.
No stranger to spectacular productions, Dimitri & Mike have enlisted the legendary production team behind the world's most sensational festivals, Tomorrowland and TomorrowWorld, to bring you one of the greatest shows in EDM history set to blow your mind.
Having just broken the 2 million fans mark on Facebook, Bringing Home The Madness will cap off what has been a truly incredible year for the boys. Whether in the studio or behind the decks the pair have certainly earned their place amongst the cream of the dance music elite. Amassing five Beatport #1 hits – Mammoth, Turn It Up, Chattahoochee, Ocarina and Project T – to closing the Main Stage of Tomorrowland in front of a crowd of thousands, and millions more watching live on YouTube – it's safe to say 2013 has been the year of Dimitri Vegas & Like Mike. If you want to experience a taste of what Dimitri & Mike have in store, visit www.bringinghomethemadness.com.