HARD DAY OF THE DEAD Reveals Its Official Trailer
HARD DAY OF THE DEAD
REVEALS ITS OFFICIAL TRAILER FEATURING GIORGIO MORODER, SKRILLEX, SIR BOB CORNELIUS RIFO OF THE BLOODY BEETROOTS AND MORE,
WITH GASLAMP KILLER AS "THE KILLER"
FOR UPCOMING FESTIVAL
SET FOR NOVEMBER 2 & 3 IN DOWNTOWN LOS ANGELES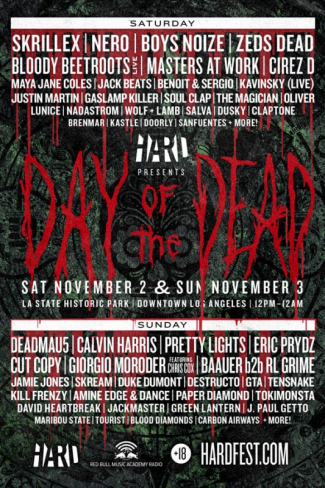 Late last week, HARD Events–presenters of the HARD DAY OF THE DEAD music festival set for November 2 and 3 at the LA State Historic Park in Downtown Los Angeles–hinted to the theme of their next trailer.  This morning all has been revealed with the official HARD DAY OF THE DEAD trailer, an engrossing six-minute mini-movie.
View it now at:
The HARD crew has pulled out all the stops to create a spoof on murder mystery movies from film noir police flicks to Alfred Hitchcock's Psycho. It depicts the story of a previous HARDperformer, who takes his revenge on not getting billed for HARD SUMMER by going on a non-stop killing spree.  Produced and directed by Agata Alexander, the clip features an all-star cast of HARD DAY OF THE DEAD performers including Giorgio Moroder, Skrillex, Sir Bob Cornelius Rifo of the Bloody Beetroots, Destructo, Skream  and Beni Geffin of Jack Beats with the Gaslamp Killer as the killer. And exactly what is going on with deadmau5 floating in the pool? Find out by watching the trailer, the soundtrack for which is provided by the Gaslamp Killerwith "Anything Worse,"  Boys Noize's "Go Hard" and Dream Science Labs' "DSL."
Single Day Tickets and 2-Day Passes for HARD DAY OF THE DEAD are available now at http://www.harddayofthedead.com/.