MYSTERYLAND'S GROUNDBREAKING U.S. FESTIVAL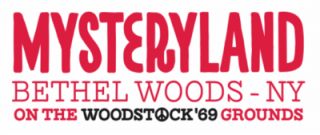 MYSTERYLAND'S GROUNDBREAKING U.S. FESTIVAL, AT SITE OF THE ORIGINAL WOODSTOCK, ANNOUNCES TICKET PLANS, VIDEO TRAILER AND SUNDAY SCHOOL MINI-FEST
The festival that started the worldwide electronic music phenomenon makes its U.S. debut at the birthplace of music festivals on Memorial Day Weekend 2014
BETHEL WOODS, NY – December 05, 2013 – The world's groundbreaking and longest-running electronic music festival, Mysteryland, today announced ticketing plans for its historic U.S. debut over the 2014 Memorial Day weekend from May 23 to May 26, 2014, at Bethel Woods, New York, the site of the legendary 1969 Woodstock festival.
The location of Mysteryland's inaugural U.S. event is no coincidence. It is the first music festival to return to the hallowed grounds where Woodstock took place. "Mysteryland has had a tremendous impact on the music world and it is the logical festival to follow in the footsteps of the original ground-breaking music event, Woodstock," said Robert F.X. Sillerman, Chairman and CEO of SFX Entertainment.
"This is more than just a music festival. This is a seminal event that marks the same kind of Revolution in society that Woodstock signified," said Sillerman, whose SFX acquired ID&T, the producer of Mysterland, earlier this year. "Woodstock changed everything when it took place in 1969 – music, culture, the way we looked at the world. Mysteryland did the same 20 years ago, when it started what is now a tidal wave of electronic music festivals and Electronic Music Culture (EMC), which engages hundreds of millions of people across the planet. SFX is proud to have the honor of producing Mysteryland at the home of Woodstock."
The festival marks an historic moment for ID&T, the producers of successful global festivals such as Sensation, Tomorrowland, TomorrowWorld and Q-dance.
"Woodstock represented the music of a new generation and cultural tour de force for the changing times, and today Mysteryland brings together the global forces of dance music for the millennial generation's revolution," said Duncan Stutterheim, a founder and current executive of ID&T.
Promoters from all over the world have been trying for decades to convince the owners of the Bethel    Woods site, Bethel Woods Center for the Arts, to host large-scale festivals in this special location. After    a year of talks, ID&T won approval for the first U.S. edition of Mysteryland, which is also held annually in    the Netherlands and Chile. The 20th edition of Mysteryland in the Netherlands took place in August 2013, selling out all 60,000 tickets.
The first US edition of Mysteryland at this iconic location will be an exclusive gathering. The multi-day festival will offer only 20,000 tickets per day with a variety of tickets, including single-day and weekend tickets ranging from $109 to premiere Mysteryland B'n'B VIP tents for $1,999. On-site camping will be available with limited capacity. Mysteryland will also offer a special 'Nomadic Journey' pass which will include travel to all three Mysterylands on three continents (North America, South America, and Europe). Mysteryland USA is a 21+ festival.
The public can sign up now at Mysteryland.us for pre-sale tickets on December 11th. The general on sale date is December 12th at 10AM EST via Mysteryland.us.