Sander Van Doorn Presents Doorn Records Label Night & World Tour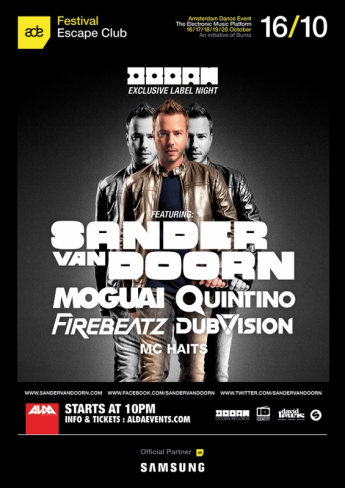 Prolific Dutch DJ and producer Sander Van Doorn is presenting his Doorn Records label night, which will kick off with an event at ADE on October 16. The world renowned DJ is without a doubt considered one of the heavyweights in today's electronic music scene, and Doorn Records is his own imprint that showcases promising up and coming talent. Doorn Records has had so many succesful records this past year, including "Tsunami" from Dvbbz, that Sander is looking to bring this platform to stages worldwide with a tour featuring artists from his label.
For his Doorn label night on October 16, he has invited some of the finest and most talented artists that he has worked with for his label to come spin some records and show the fans what Doorn Records is all about. This includes Dubvision, Firebeatz, Moguai and Quintino, and of course Sander Van Doorn himself.
Following this, Sander will announce world tour dates, spreading the sound of his label on a global scale. The tour will feature new production including visuals and lighting, and will be focused on keeping costs low so that every fan can come and enjoy what Doorn Records has to offer.
Sander Van Doorn says, "I'm very proud of the great talents I got to work with as a label owner, I love it! I feel blessed that I can give young talent a platform to release their music and believe it is very important for the dance music scene. I help them build a great track and learn a lot from them at the same time. Now I feel it's time for a tour concept that shows the diversity of my sound and brings that energetic Doorn vibe to the stages!
DOORN label night at Amsterdam Dance Event
October 16th
Escape Club
Featuring
Sander van Doorn
Quintino
Moguai
Firebeatz
DubVision
MC Haits
Time: 11pm – 5am
Be part of the experience and get your tickets here now: http://bit.ly/SvDADE2013